What is the role of content marketing?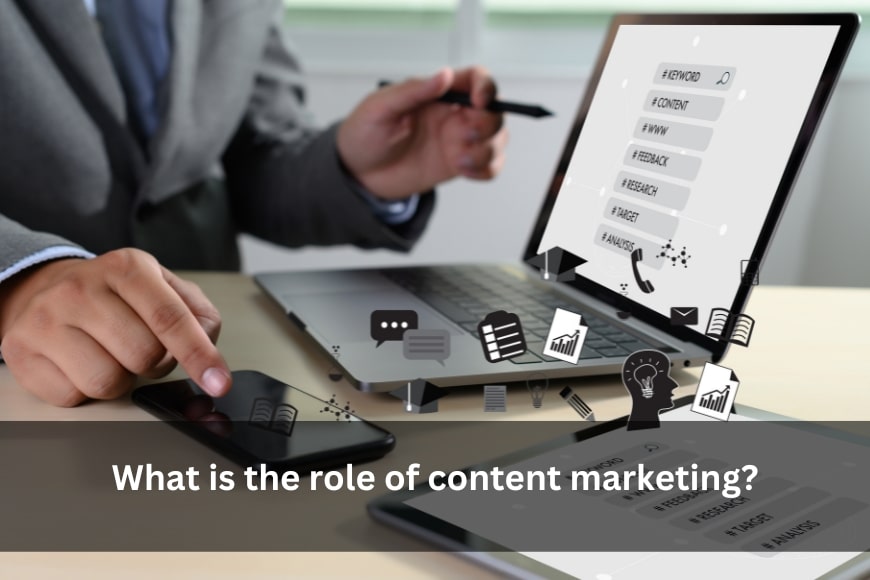 Understanding Content Marketing: Definition & Importance
Content marketing is your brand's secret weapon. It's not just about words on a page; it's a powerful tool to outshine your competitors, boost your search ranking, and establish trust. In this guide, we'll dive into what content marketing is, why it matters, and how to craft a strategy that delivers results.
What is Content Marketing in the Digital Landscape
In the world of digital marketing, content is the bridge that connects you with your audience. Whether it's through mobile apps, podcasts, social media, blogs, or whitepapers, your audience trusts these platforms. Now, it's your turn to create content that's not just valuable, but also genuine and relatable. Forget the hard sell—focus on delivering content that resonates.
Consider podcasts; they thrive on thoughtful discussions, diverse voices, and content that isn't self-centered. Authenticity wins in the digital realm. Take social media marketing as an example. What works better: a generic "Click-here-to-learn-more" tweet or a thought-provoking blog post about an industry movement you're passionate about? Let your personality shine through because you genuinely care about the content.
When partnering with an online digital marketing agency, they can help amplify your message across these platforms, ensuring your content not only resonates but also reaches a wider, targeted audience.
The Power of Content: Meeting Marketing Objectives
Content is the Swiss army knife for marketers:
Attracting top-of-the-funnel customers

: It's the introduction to your brand.

Building trust:

Providing valuable information for free builds credibility.

3

. Boosting SEO:

Search engines love websites with helpful content.

Enhancing customer experience

: Content shows customers how others use your product and troubleshoots common issues.
Sure, anyone can write a blog post or shoot a video. But to hit those marketing targets, you need a solid strategy.
The Common Types of Content Marketing
Content takes various forms, from written to visual, and even a blend of both. Here's a snapshot of popular content types:
– Blog posts
– Email
– Infographics
– Videos
– Email newsletters
– Ebooks and white papers
– Case studies
– Podcasts and webinars
– Landing pages
Now, let's dive deeper into a few.
Blogs: Your Reliable Content Format
Blogs and articles are tried-and-true content formats. They're accessible and have a low barrier to entry. Consistent updates not only build SEO authority but also nurture reader relationships. When your audience sees your blog as a trusted source, they're more likely to value your advice.
Ebooks and White Papers: Going Beyond the Surface
These in-depth reports are packed with original data and insights. They dive deeper than blog posts, tackling complex topics, showcasing products or services, or presenting research findings. They're also a lead generation goldmine when offered as gated assets.
Email Marketing: Your ROI Rocket
Email marketing packs a punch in terms of return on investment (ROI). Some estimates put it at a staggering $36 return for every dollar spent. It's no wonder three out of four marketers use email newsletters. It's a direct line to users, providing a steady stream of fresh content.
For instance, when users sign up with Salesforce, they receive an email with helpful resources. These emails serve as excellent introductions for new customers, addressing common questions proactively.
Video and Audio Content: Engaging on a Deeper Level
Video and audio content forge deeper connections with customers. In fact, 92% of marketers report a positive ROI from video content. Podcasts, especially in the B2B arena, are gaining traction. They're among the top ten most popular types of B2B content.
Each type of content has its strengths, resonating with different audiences. Now, let's explore the overarching benefits of weaving content into your marketing strategy.
For further insights, you can also check out our blog post on video marketing in 2023.
Compelling Reasons to Integrate Content Marketing into Your Digital Marketing Strategy
Marketing through content isn't just a strategy; it's the key to business growth. Your website's content serves as the foundation that attracts, educates, and converts visitors into customers. Without quality content, attracting an audience becomes a challenge. 
To kickstart any successful digital marketing campaign, a well-crafted content strategy is essential. Content is the backbone of SEO, influencing the ranking of pages in search results. PPC campaigns rely on content for effective landing pages that drive traffic from your ads. Whether it's a blog post, an optimized page, or your online presence, content forms the bedrock of any marketing endeavor.
Informing and Guiding Your Audience
Exceptional content serves as an informative beacon for your audience, addressing their fundamental questions. By providing valuable insights, you empower them to make informed decisions. This isn't just about sharing intriguing facts; it's about aiding them in making the right buying choice, simplifying their journey, and ensuring a mutually beneficial transaction. A well-informed potential customer is more likely to convert, all because you invested in quality content.
Driving Conversions through Quality Content
Every action taken by your site's visitors toward becoming a customer is a conversion. These conversions are the lifeblood of business growth. Getting your content out there is just the first step; it should then work tirelessly to bring in new customers.
Elevating Engagement through Compelling Content
Engagement on social media can be elevated by repurposing valuable content. By sharing significant links and thought-provoking quotes, you encourage readers to spread the word on their social platforms. Enhancing clarity through images or impactful ideas within your content encourages users to share on platforms like Twitter and Facebook. Social media offers a unique, direct line to customers that other channels can't replicate. Engaging with your audience fosters authentic relationships and provides invaluable input for refining your marketing strategy.
Showcasing Brand Expertise through Content
The content you create is a canvas to showcase your brand, your business, and your expertise. Content marketing's effectiveness lies in its versatility. Whether through a blog, video, podcast, whitepaper, e-book, or video, you can address customer inquiries effectively. Recognizing that different people have varied preferences for consuming content, diversifying your brand's visibility enhances recognition and solidifies your position as a leader in your field.
How Content Marketing Drives Sales at Each Stage of the Buyer's Journey
Utilizing content marketing strategically allows your business to attract leads, present compelling cases for your products or services, and ultimately close sales. By aligning content with each stage of the sales cycle, from awareness to consideration to purchase, you simplify the process and engage potential customers effectively.
Awareness Stage
Address the top concerns of your audience.

Provide educational, how-to advice.

Content types: articles, blog posts, e-books, videos, newsletters.
Consideration Stage
Offer a mix of helpful information and marketing.

Educate readers about features and functions.

Content types: case studies, how-to articles, how-to videos, checklists.
Closing Stage
Focus on sales while highlighting expertise and benefits.

Content types: case studies, user-generated content, buyer's guide, product video, research report.
Enhancing Content Marketing with SEO and Social Media
Content marketing is a powerful tool for attracting potential customers. However, its effectiveness can be significantly amplified through search engine optimization (SEO) and strategic social media promotion. Here are some key practices to consider:
Optimizing with Keywords
Keywords form the bedrock of your SEO efforts. These are the words and phrases prospects use when searching for products or services. When integrated effectively into your content, they can drive more traffic. Focus on keywords that are plain-language, relevant to your offerings, and specific to your industry expertise.
Aligning Content with Search Intent
Modern SEO emphasizes delivering on what your content promises. Search engines evaluate content for relevance and whether it fulfills the expectations set by the headline. This underscores the importance of using keywords naturally throughout your content.
Strategic Use of Keywords
Concentrate on 1 to 2 keywords to avoid overwhelming your content.

Incorporate keywords into your title to provide clarity about the content's subject.

Seamlessly weave keywords into your content while staying on topic.
Leveraging Social Media for Content Promotion
Once you have compelling content, it's essential to promote it effectively. Social media platforms like Facebook, LinkedIn, Twitter, and others offer a proven avenue for content promotion. Here are steps to make the most of it:
Selecting the Right Social Media Channels
Identify the social media platforms most frequented by your target audience. This includes major platforms as well as niche, industry-specific ones. Tailor your selection based on your audience's preferences.
Adapting Copy to Suit Each Channel
Each social media platform has its own tone and style. Familiarize yourself with these nuances and infuse your posts with your company's unique spirit.
Testing and Refining Your Approach
Trial and error is key to a successful social media promotion strategy. Monitor engagement metrics and adjust your approach based on both quantity and quality of responses.
Read Also: What social media pays the most 2023?
In a nutshell, content marketing is the backbone of your digital marketing strategy. It's not just about churning out words or videos; it's about creating valuable, authentic, and relatable content that resonates with your audience. This guide has walked you through the various types of content, from blogs to videos, and explained how each serves a unique purpose.
Remember, content is the Swiss army knife for marketers. It attracts potential customers, builds trust, boosts SEO, and enhances the overall customer experience. So, when crafting your content strategy, focus on quality over quantity. And don't forget to integrate SEO and social media for maximum impact.
Ultimately, successful content marketing is about providing real value to your audience and building trust, rather than just pushing products. Keep honing your strategy based on what works best for your specific audience, and watch your brand shine in the digital landscape!