What is social media marketing?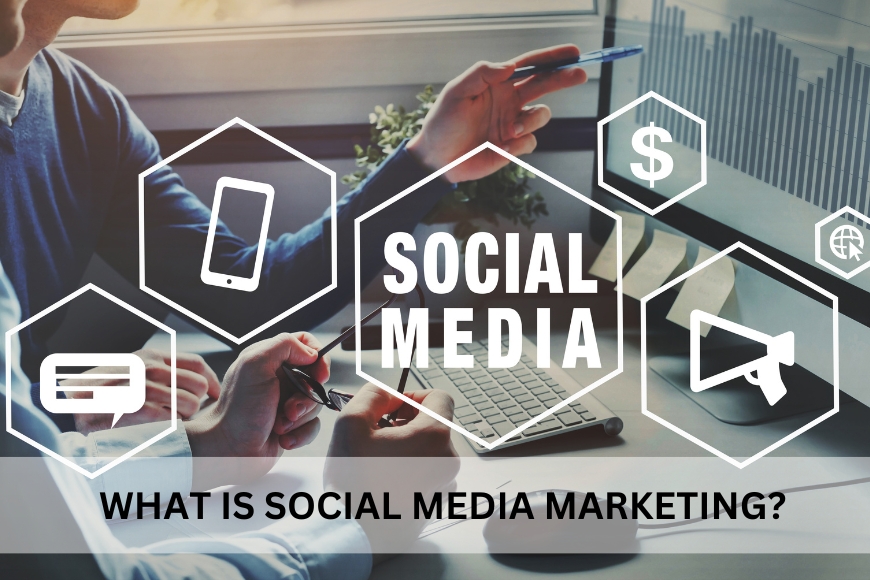 Social Media Marketing (SMM)
Social media marketing (SMM) is a form of internet marketing that leverages social media platforms as a promotional tool. These platforms enable brands to establish connections with their audience, achieving various objectives such as brand building, sales augmentation, driving web traffic, and cultivating a community of engaged followers for content sharing.
Producing pertinent content that users willingly share expands brand exposure, reaching not only existing fans but potential customers and even prospective employees when used for recruitment. SMM also provides a platform for gathering customer feedback, creating a more personable company image. It allows organizations to foster relationships with their audience, giving end users a platform to ask questions, voice concerns, and be heard, while also affording brands the opportunity to respond, adapt, and refine their offerings.
Functioning on the principle of Social Media Optimization (SMO), akin to Search Engine Optimization (SEO), SMM aims to attract new and unique visitors to the designated website. This can be executed in two distinct ways:
Active SMM Promotion:

This entails integrating links (applications) within the website's content that lead users directly to various social networks. Much like RSS and social media share buttons, this method capitalizes on popular platforms like Facebook, Twitter, LinkedIn, Instagram, YouTube, and Pinterest.

Passive SMM Promotion:

This strategy involves engaging in activities on social networks through regular updates, video, image and article publications, and tweets. By analyzing user responses, organizations can address concerns, rectify issues, and enhance the overall brand experience.
A notable advantage lies in the real-time nature of the information acquisition process, expediting decision-making and ushering in a new level of collaboration. This dynamic approach offers an unparalleled dimension to cooperation, enhancing the efficacy of Social Media Marketing efforts.
For comprehensive online digital marketing services, consider exploring the offerings of a trusted IT company like Trycyfer. They bring expertise and tailored strategies to enhance your digital presence and drive meaningful results.
5 Pillars of Social Media Marketing
1. Social Strategy
Aligning social media efforts with overall business and marketing goals is paramount. Objectives should encompass brand awareness, traffic generation, lead acquisition, and revenue increase.

It's essential to select the social media platforms that best cater to the target demographic, as utilizing all platforms may not be practical or effective.

Identifying the optimal content mix for each platform, including

video marketing

, imagery, links, and direct messaging, is crucial.
2. Planning and Publishing
After formulating a strategy, consistent content publishing is key. This can range from sharing blog posts to introducing new products or events. Maintaining this consistency encourages audience retention.

Tools like Hootsuite, HubSpot, and Sprout Social facilitate post scheduling for optimal timing.
3. Listening and Engagement
Active participation on social platforms fosters interactions and discussions about the brand and its products. This includes user comments, shares, and direct messaging.

Employing social listening tools stay attuned to relevant conversations, even when they're not directly tagged.
4. Analytics and Reporting
Evaluating performance is pivotal as content and audience grow. Identifying high-engagement posts, audience demographics, and other relevant metrics informs future strategies.

While each platform provides its own analytics, aggregating data through tools can provide a comprehensive overview of campaign successes and shortcomings.
5. Advertising
While much of SMM is cost-effective, as the program expands, paid features become valuable for targeting specific demographics and behaviors. These include demographic information and retargeting.
For further insights on which social media platforms offer the highest returns in 2023, refer to trycyfer.com's blog post. They provide up-to-date information on maximizing your social media marketing efforts for optimal results.
Advantages and Disadvantages of Social Media Marketing
Advantages:
Wider Audience Reach:

With over 3.6 billion users across platforms, a single shared post can significantly amplify brand exposure.

Enhanced Customer Satisfaction

: SMM not only markets to customers but also engages with them, improving customer service and building one-to-one relationships.

Cost-Effectiveness:

When executed proficiently, SMM requires minimal resources. Once strategies are established, managing the program becomes straightforward with low overheads.

Increased Website Traffic:

Social posts effectively drive traffic back to the brand's website, promoting content and offers to further engage with the audience.

In-Depth Insights:

Analytics provide valuable data about followers, their interests, and their engagement patterns, allowing for more tailored content and interactions.
Disadvantages:
Time-Intensive:

Effective SMM demands considerable time investment in content creation, scheduling, and responding to inquiries, which can be challenging for smaller teams.

Need for Skilled Resources:

Running an SMM program requires experienced professionals rather than entry-level employees.

Delayed ROI:

SMM is a long-term endeavor, with returns often realized over extended periods and multiple content pieces.

Competitor Visibility:

Posts on social media are public, potentially exposing strategies to competitors.

Brand Reputation Risk:

Negative reviews and public criticisms can emerge, necessitating swift, strategic responses.
Creating a Social Media Marketing Strategy
Set Clear Goals:

Define social media goals aligned with broader business objectives. Break them down into actionable steps for effective implementation.

Research Audience and Buyer Personas

: Understand your target audience and create content tailored to their needs and preferences.

Select Relevant Social Platforms:

Focus on platforms where your audience is most active to maximize impact.

Establish Key Metrics

:Use data-driven insights to track performance. Focus on metrics directly linked to your goals.

Analyze Competition:

Understand competitors' strategies to identify opportunities for differentiation.

Generate Unique, Engaging Content:

Create content that stands out, resonates with your audience, and encourages interaction.

Implement Posting Schedule:

Use social media management tools to plan, schedule, and track posts.

Regularly Review and Adapt Strategy:

Keep abreast of trends, monitor performance, and adjust your strategy for ongoing success.
Analyzing Social Media Metrics
Evaluate the success of your social media efforts by tracking key metrics:
Engagement

: Monitor clicks, comments, likes, and shares to gauge audience interaction.

Reach

: Measure the number of users exposed to your content.

Followers

: Track growth in your audience.

Impressions

: Assess how often your content is viewed.

Video Views, Profile Visits, Mentions, Tags, Reposts, and Shares: Gain insights into user behavior and brand interactions.
Leverage analytics tools provided by social platforms or use dedicated solutions like Twitter Analytics, Facebook Analytics, Instagram Insights, or Google Analytics for comprehensive tracking.
Remember, social media marketing is a dynamic field. Periodically review and refine your strategy to stay ahead of industry trends and maintain effectiveness.