Video Marketing in 2023: Trends and Best Practices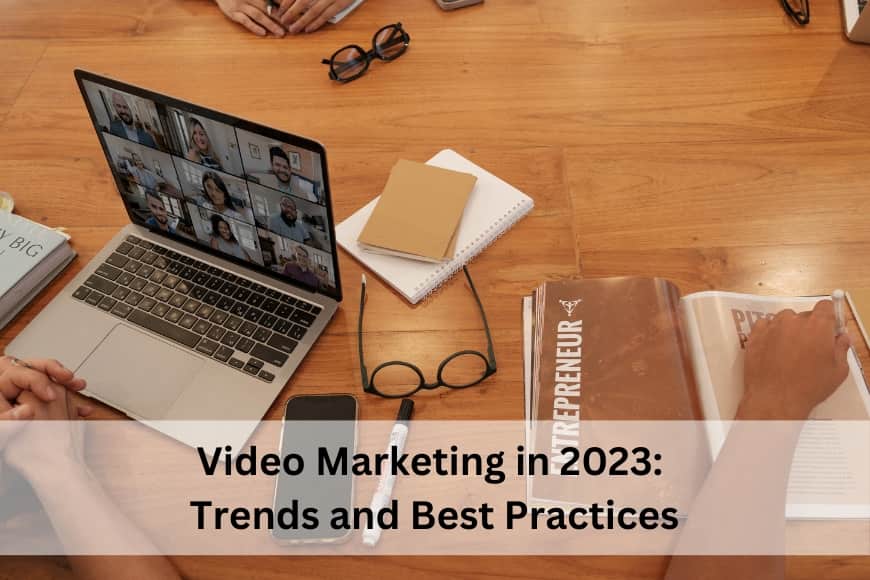 In today's digital landscape, video marketing has emerged as a pivotal tool for businesses. With a surge in video consumption, major social media platforms like Facebook and Instagram are placing a stronger emphasis on video content. This article delves into the crucial role of video marketing for your business and outlines the key trends and best practices to follow in 2023.
The Impactful Results of Video Marketing
Over the past decade, the significance of video marketing has skyrocketed, paralleling the increasing accessibility and shareability of online video content. In 2023, 82% of marketers acknowledged video marketing's commendable ROI. Fast forward to this year, and that figure has surged to an impressive 92%. A study by our digital marketing services agency Experts reveals that 79% of consumers credit video content for influencing their purchasing decisions, while 91% express a desire for more video content from the brands they follow. These statistics underscore not just the efficacy of video marketing, but also its escalating role as a marketing asset.
Standing Out – Elevating Your Video Marketing Strategy
Video marketing plays a pivotal role in enabling your brand to convey its personality and character effectively. Video ads and social media platforms serve as potent mediums for showcasing your products, services, and business in action. Nevertheless, with video marketing now being standard practice, ensuring your video captures attention necessitates adhering to leading trends and best practices.
Video Marketing 2023's Key Trends and Best Practices
To ensure your videos receive the attention they deserve, we've compiled a list of trends and best practices for 2023. The future of video marketing is bright, with emerging trends and best practices that promise to enhance video content's engagement and effectiveness. Here are some noteworthy trends:
Short Videos for Maximum Impact:

As demonstrated by TikTok's explosive growth, short videos command substantial attention and prove highly effective in garnering views. In fact, two-thirds of consumers find short videos more engaging, impactful, and memorable compared to longer counterparts.

Interactive Video Experiences

: Interactive videos enable viewers to engage meaningfully with content. This can include actions like clicking on hotspots to learn more about a product or service, or choosing their own narrative path. Interactive videos elevate viewer engagement and drive conversions.

The Endless Loop Strategy:

Pairing brevity with looping creates snappy videos that entice multiple viewings, subsequently elevating your video's algorithmic ranking.

SEO Optimization for Enhanced Visibility:

Beyond length and looping, optimizing your videos for suggestion algorithms is crucial. This involves strategic titling, keyword-rich descriptions, and a focus on addressing audience queries.

Faces in Thumbnails:

Human faces in video thumbnails significantly boost attention and views, leveraging our natural inclination towards expressive faces.

Silent Videos with Captions:

Ensuring your videos are watchable in silence is paramount, given that many viewers engage in environments where audio is impractical. Accurate captions facilitate accessibility and engagement.

Live Video and Stories for Authentic Engagement:

Momentary content through live videos and short-lived Stories on platforms like Instagram create a sense of urgency and genuine connection with your audience.

Raw Video and User-Generated Content:

Unfiltered, behind-the-scenes footage and user-generated content emphasize your brand's authenticity and foster trust.

Immersive Technologies for Engaging Experiences:

360-degree videos and virtual reality offer viewers immersive, memorable brand experiences.
Leverage Online Digital Marketing Services for Video Success
Given the ubiquity of smartphones, producing video content has become more accessible than ever. With its growing popularity, integrating video marketing into your strategy is essential. To stay on top of the latest trends and best practices, consult our Online digital marketing services team for attention-grabbing video ads. Our social media experts can also ensure your video content remains engaging. For professionally shot and edited content, explore our comprehensive video packages.

For a deeper understanding of how digital marketing strategies like Search Engine Marketing (SEM) complement video marketing, explore our article on How Does Search Engine Marketing (SEM) Work?. Delve into the intricacies of SEM to enhance your overall marketing approach.
Best Practices for Video Marketing
In addition to the emerging trends, adherence to these best practices is fundamental:
Craft High-Quality Content

: Ensure your videos are well-produced and visually appealing, conveying professionalism and credibility.

Weave a Compelling Narrative:

Engaging videos tell a story, whether about your brand, products, services, or customers.

Optimize for Mobile Viewing:

With the surge in mobile video consumption, ensure your videos are mobile-friendly, employing vertical formats for maximum impact.

Leverage Social Media:

Utilize all relevant social media channels to promote your videos and broaden your audience reach.

Track and Analyze Performance

: Employ analytics tools to monitor key metrics like views, watch time, and engagement, enabling you to refine your video marketing strategy.
By embracing these emerging trends and best practices, you can create video marketing campaigns that are not only engaging and effective but also poised for future success.
To gain further insights into maximizing the potential of your marketing efforts, explore our article on the Difference Between an Advertising and a Branding Agency. Understanding this distinction can refine your strategic approach for even greater impact.