How to Develop a Social Media Strategy ?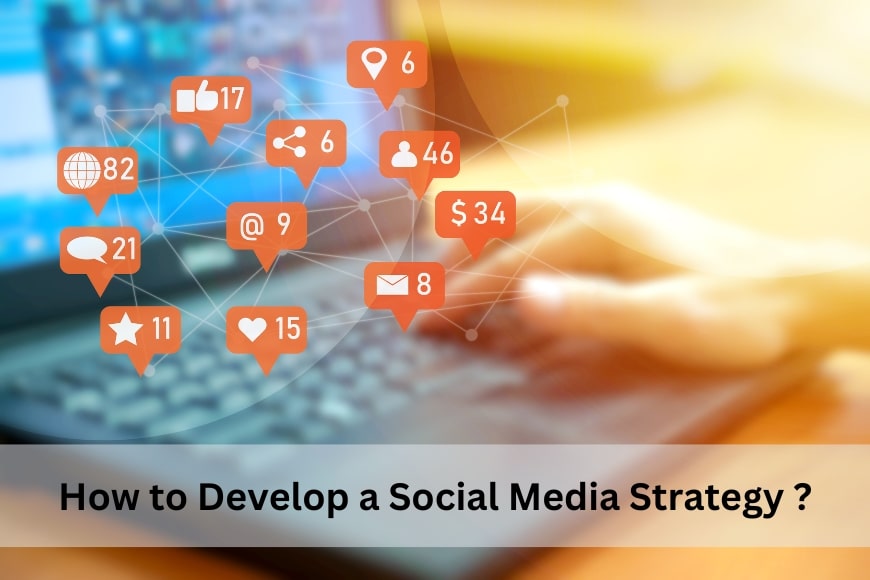 How to Develop a Social Media Strategy for Brand Growth
In today's digital landscape, social media marketing has transcended being a mere option for businesses—it's now a necessity. With diverse demographics actively engaging on global social networks, establishing a robust presence is vital for meaningful engagement, influence, and conversions.
Consider these compelling statistics from the 2023 Digital Overview Report:
– Early 2023 saw a staggering 5.44 billion people using mobile phones, constituting 68 percent of the global population.
– There are presently 5.16 billion internet users worldwide, accounting for 64.4 percent of the global populace.
– A year ago, working-age internet users spent nearly 7 hours per day online, which has now slightly reduced to 6 hours and 37 minutes daily in the latest research.
– Instagram has solidified its position among the top social media platforms, boasting 2 billion monthly active users, as announced recently.
In this article, we will dissect the critical components of a potent social media marketing strategy. Explore more insights on Social Media Marketing (SMM)
Defining a Social Media Strategy:
A social media strategy is the blueprint that outlines how you'll leverage social platforms to achieve your business objectives. It encompasses your goals, target audience, chosen platforms, content approach, and engagement tactics. This strategy should harmonize with your overall marketing plan and possess the adaptability to respond to evolving trends and business needs.
Advantages of a Well-Defined Social Media Strategy:
While individual social media victories can be achieved, the real challenge lies in maintaining consistency. Do you know why a particular campaign or post succeeded, and can you replicate it seamlessly? Although crafting a social media strategy may seem daunting, it bestows several tangible benefits, including:
Amplified Brand Awareness:
By consistently sharing high-quality content and engaging with followers, you can enhance brand recognition and broaden the awareness of your products or services.
Increased Website Traffic:
Social media serves as a robust traffic source for your website. Posting links to your site encourages followers to explore your business further.
Lead Generation and Sales:
Crafting targeted social media campaigns and offering valuable content can attract potential customers, converting them into leads and driving sales.
Enhanced Customer Service:
Utilizing social media as a customer service platform showcases your dedication to customer satisfaction, fostering trust and loyalty.
Stronger Customer Relationships:
Interacting with customers on social platforms enables you to understand their needs better, leading to product/service improvements and an enhanced customer experience.
Additional Benefits of a Social Media Strategy:
Maintaining Competitiveness:
In an era where most competitors leverage social media for marketing, a well-structured strategy ensures you stay on par and effectively reach your target audience.
Performance Tracking:
Social media platforms offer robust analytics tools to monitor results, enabling you to refine your strategy over time.
Distinguishing Social Media Marketing Strategy from Content Strategy:
While closely related, a social media marketing strategy and content strategy are distinct entities. The former is a high-level plan outlining how social media will fulfill business goals, while the latter delves into the specifics of content creation and posting.
Social media marketing strategy vs. social media content strategy
In the realm of social media, crafting a successful marketing plan requires a nuanced understanding of two integral components: social media marketing strategy and social media content strategy. While closely related, these concepts are distinct in their purpose and execution.
Social Media Marketing Strategy:
At its core, a social media marketing strategy is the high-level blueprint detailing how you will leverage social media to attain your business objectives. This blueprint encompasses key elements such as defined goals, target audience identification, choice of social media platforms, and an overarching approach to executing your social media marketing efforts
Social Media Content Strategy:
In contrast, a social media content strategy delves into the specifics of what content you will create and share across your social media platforms. This strategy outlines content goals, subjects, content types, and an organized posting schedule to ensure consistent engagement.
Harmony between these two strategies is imperative. Your content strategy should harmonize seamlessly with your broader marketing strategy, while retaining the flexibility to adapt to shifting social media trends and evolving business needs.
A comparative overview of the key disparities between social media marketing strategy and social media content strategy is presented below:
| | |
| --- | --- |
| Social media marketing strategy | Social media content strategy |
| High-level plan for how to use social media to achieve business goals | Detailed plan for what kind of content to create and post on social media |
| Includes goals, target audience, social media platforms, and overall approach | Includes content goals, topics, types of content, and posting schedule |
| Should be aligned with overall marketing strategy | Should be aligned with social media marketing strategy |
| Should be flexible enough to adapt to changes in social media trends and business needs | Should be flexible enough to adapt to changes in social media trends and business needs |
Let's take a closer look at how social media marketing strategy and content strategy team up to achieve results:
Imagine you have a goal to boost your brand's recognition. Your social media marketing strategy would involve creating content that's not only informative but also captivating, shining a spotlight on your brand's products or services. This could also involve fun activities like contests and giveaways.
Now, let's say you're aiming to generate leads. Your social media marketing strategy would steer towards creating enticing resources like e-books, whitepapers, and webinars. To sweeten the deal, you might even run targeted advertising campaigns to reach potential leads.
And what if your focus is on driving sales? Here, your social media content strategy would be all about showcasing product demos, sharing glowing customer testimonials, and offering exclusive deals. This might be complemented by advertising campaigns specifically designed to highlight certain products or services.
When you bring it all together, social media marketing strategy and content strategy become the dynamic duo of a successful social media marketing plan. By putting equal thought into both, you're setting the stage for achieving your business goals and ultimately growing your brand.
The Significance of Social Media Engagement Strategy:
Your social media engagement strategy serves as the linchpin connecting you with your audience across platforms. It facilitates community management and cultivates brand identity. This strategy essentially serves two core purposes:
Community Management:
This involves providing valuable insights through blogs, responding to comments, addressing queries, and gathering feedback through polls or surveys.
Follower Growth:
Interactions are paramount. Offer valuable content, engage potential leads, and demonstrate an active and helpful brand presence to draw in followers.
Notably, user-generated content (UGC) assumes a pivotal role, showcasing genuine support for your brand, emanating directly from your customers.
Steps to Crafting a Superlative Social Media Strategy:
Now that we've laid the groundwork, let's embark on the specific steps needed to construct a robust social media strategy, with a keen eye on integrating content and engagement strategies:
Set Clear Goals:
Define your social media goals, aligning them with your business objectives. Distinguish between marketing goals and broader business objectives.
Audience Research:
Conduct thorough market research to comprehend your audience's preferences and needs. Leverage tools like BuzzSumo for social listening.
Competitor Analysis:
Scrutinize your competitors' social media endeavors to glean insights into platform usage, content frequency, and engagement strategies.
Choose Appropriate Platforms:
Select the social media platforms that best align with your business and content. Avoid spreading too thin; prioritize quality over quantity.
Strategize Your Content:
Craft a tone and style that resonates with your brand identity. Establish content themes or buckets, and implement a well-structured content calendar.
Measure and Optimize:
Monitor content performance diligently, making data-driven adjustments to optimize engagement. Experiment with diverse content formats and approaches.
Community Building:
Cultivate active engagement within your community. Promptly respond to inquiries, address concerns, and consider implementing polls or surveys.
Audience Growth:
Employ both organic and paid strategies to expand your social media audience. Leverage content as a magnet for engagement and growth.
In conclusion, an effective social media strategy hinges on a nuanced understanding of both social media marketing and content strategies. By embracing these foundational principles and leveraging practical examples, businesses can forge a path towards meaningful engagement and sustained growth in the dynamic landscape of social media.
For a strategy rooted in knowledge and tailored to your business, consider enlisting the expertise of our Online Digital Marketing Service. Get started today, and propel your business towards the social media presence it deserves.