Why Content Marketing Is The Future Of Your Business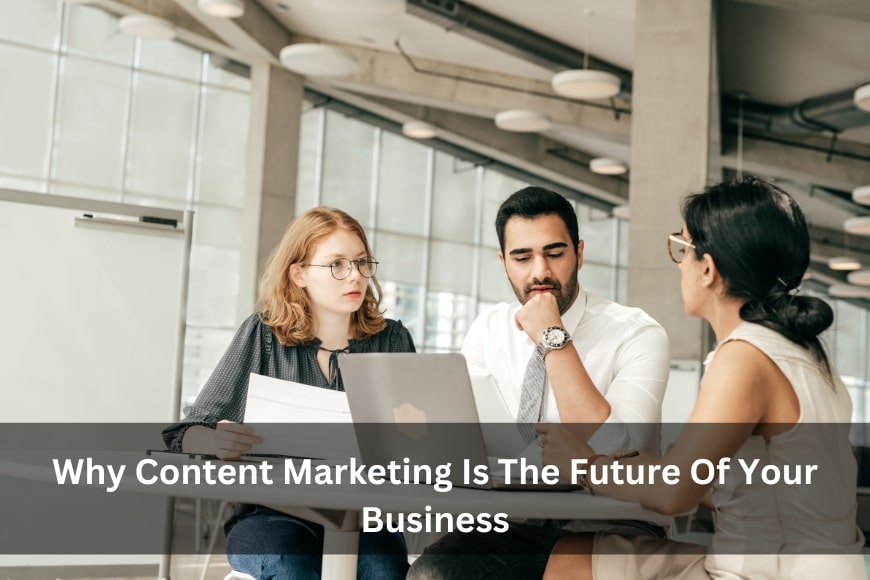 The Future of Content Marketing
Content marketing holds a crucial role in the success of any business. It allows for meaningful connections without resorting to overly aggressive sales tactics. In today's crowded marketing landscape, standing out amidst the constant barrage of messages is a challenge. Trust has become a pivotal factor in consumer decision-making, with 46 percent of the consumers indicating they are willing to pay a premium for trusted brands.
Establishing trust hinges on consistent presence and providing valuable content rather than a relentless sales pitch. This shift has led marketers to heavily rely on content marketing for driving traffic. In fact, a substantial 78% of Chief Marketing Officers (CMOs) believe personalized content is the future of marketing, according to Demand Metric. Moreover, content marketing is three times more effective in generating high-quality leads compared to outbound marketing.
Why is content marketing considered the future?
In an increasingly digital world, where online presence is paramount, people spend a significant amount of time actively seeking out high-quality content. This shift towards digitalization has highlighted the importance of online digital marketing services. Businesses that can create and distribute engaging content, with the assistance of professional online digital marketing services, are well-positioned to reach their target audience effectively. Content marketing also offers a cost-effective approach to reach a wide audience. Once created, a piece of content can be shared across various channels, like websites, blogs, social media, and email marketing, allowing businesses to reach a large audience without significant advertising expenses.
Additionally, content marketing aids in building trust and credibility. When you provide valuable content, you demonstrate expertise and authority in your field. This trust can lead to increased sales and conversions. Furthermore, content marketing positively impacts search engine rankings. Google and other search engines favor websites that regularly publish high-quality content. Hence, consistent creation and distribution of valuable content can lead to higher rankings in search engine results.
Moreover, content marketing plays a pivotal role in lead generation and sales. Relevant content attracts potential customers to your website, where other marketing techniques, like lead magnets and email marketing, can be employed to convert them into leads and ultimately customers.
In essence, content marketing is the linchpin of strategic marketing. It serves as a versatile approach that aids businesses in achieving a range of marketing objectives, including heightened brand awareness, lead and sales generation, and improved website traffic and search engine rankings.
The Evolution of Content Marketing in the Future
Google's impact on content marketing was profound. In 2011, the study revealed that 88% of shoppers conduct thorough research before making a purchase. This discovery stage is pivotal, and word of mouth holds significant sway during this phase. This study marked a turning point in content marketing's evolution, emphasizing the need for sound Search Engine Optimization (SEO) to bolster online presence.
Additionally, Google's algorithm change in the early 2010s shifted the focus from "keyword stuffing" to more comprehensive and relevant content. This change emphasized the importance of providing positive, helpful online experiences, and set the stage for businesses to focus on producing high-quality, meaningful content.
The rise of social media also played a pivotal role in content marketing's evolution. These platforms introduced a new form of content consumption, characterized by a more passive approach compared to pointed searches on search engines. This shift incentivized the creation of shareable, attention-grabbing content.
Video emerged as a dominant content marketing medium, particularly among younger consumers. As of 2021, about 70% of marketers consider video their primary form of media in content strategies. Its inherent engagement levels make it a preferred choice. Platforms like YouTube became central in the content marketing landscape by the end of the 2010s.
These shifts in content marketing in the 2010s demonstrate that the practice is dynamic and constantly evolving. As we move forward, there are undoubtedly more changes on the horizon.
Looking ahead, the future of content marketing is promising. Businesses that can produce and distribute high-quality, relevant, and engaging content are well-positioned to achieve their marketing objectives and expand their reach.
Anticipating trends as they emerge is one thing, but accurately predicting them beforehand puts you at the forefront of innovation. What might 2023 hold for content marketing? It's time to dust off the crystal ball.
AI's Role in Content Creation
While artificial intelligence (AI) can streamline content creation and enhance efficiency, it cannot replace the human touch. At its core, great content resonates on an emotional level and tells a compelling story. Providing value in a way that connects with the audience remains the ultimate goal.
AI can certainly assist in tasks like blog writing and topic ideation, but it lacks the creativity and emotional intelligence inherent in human marketers. If AI could entirely replace marketing jobs, companies wouldn't still be seeking prompt engineers.
AI is poised to play a significant role in the future of content creation. However, it will be up to human creators to craft content that truly resonates and stands out to their audiences.
AR and VR: Transforming Experiences
The future of content marketing is already here with the rapid evolution of augmented reality (AR) and virtual reality (VR). These technologies enable businesses to create immersive experiences that surpass traditional forms of content marketing.
AR and VR allow businesses to transport their audiences to virtual worlds, explore products in 3D, and deliver immersive storytelling experiences. With the continued growth of AR and VR, businesses will have even more opportunities to create memorable experiences that resonate with their target audience.
Personalization: A Non-Negotiable
Personalization will be more than just a buzzword in content marketing's future. Consumers are increasingly selective about the content they engage with, seeking relevance and a sense of direct communication from brands.
By using data and insights to tailor content to individual consumers, businesses can increase engagement, build stronger relationships, and drive better results. Prioritizing personalization will provide a competitive edge in the coming years.
Branding and SEO: Inseparable Components
Branding and SEO are set to become even more intertwined in the future of content marketing. A strong brand identity, combined with a clear message and unique value proposition, can help businesses rank higher in search results.
As voice search gains prominence, businesses must focus on creating informative and engaging content that aligns with their brand identity. By investing in both branding and SEO, businesses can create a more cohesive and effective content marketing strategy.
In Conclusion
These insights provide a glimpse into the dynamic landscape of content marketing. Artificial intelligence, voice search, augmented reality, remarketing, and passage indexing are all poised to shape content marketing in 2023 and beyond. Embracing these trends is not only a wise move but also positions businesses at the cutting edge of innovation. The signs are there, waiting to be turned into action.
Is there anything else you foresee as a significant future trend in content marketing for 2023? What are your predictions for the future?