What is the goal of social media?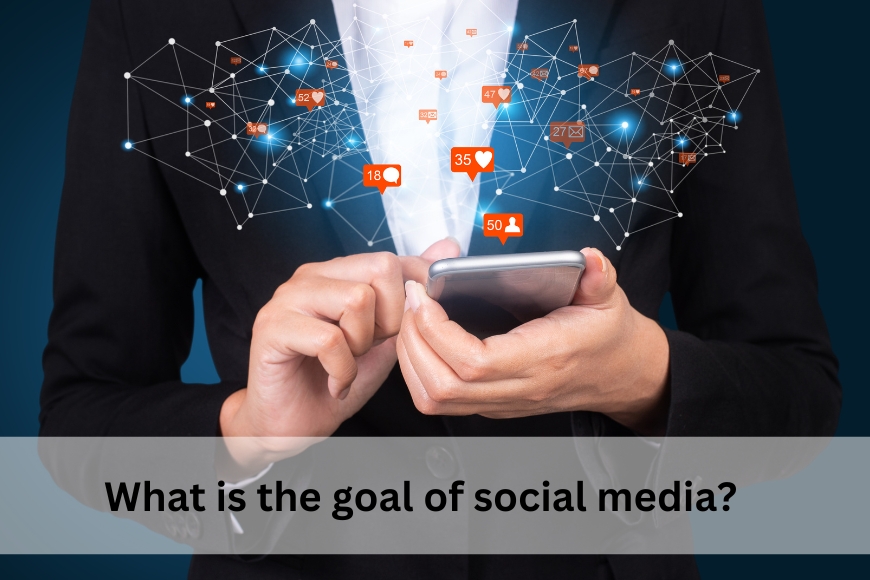 Mastering Social Media Marketing Goals for Business Success
In the realm of social media, crafting compelling content is second nature to you. However, translating business jargon into tangible social media marketing goals can be a daunting task. While your latest Instagram may be garnering views, how does it translate to the bottom line of your company?
What Are Social Media Goals?
Social media goals are clear statements outlining what you aim to achieve with specific social marketing tactics or your overarching social media strategy. These goals should seamlessly align with your broader business objectives, whether it's lead generation, driving website traffic, or expanding your follower base.
Why Do Social Media Marketing Goals Matter?
Setting clear social media goals provides you with a target to strive for and facilitates buy-in from key stakeholders. Well-defined goals also assist in:
– Efficient budget management
– Streamlining workflows
– Demonstrating the return on investment of your marketing efforts
– Aligning social media activities with broader organizational goals
9 Essential Social Media Marketing Goals
Your social media goals should be tailored to your unique business needs. However, several goals are universally applicable across various campaigns. Here are some common social media goals along with key metrics for gauging their success:
Increasing Brand Awareness
   Building brand awareness involves expanding the audience that recognizes your brand. This is particularly crucial when introducing a new product or entering a new market. Metrics to monitor include post reach, audience growth rate, potential reach, and social share of voice.
Managing Brand Reputation
Trust is paramount in today's market. This goal involves monitoring public sentiment towards your brand, including mentions and relevant hashtags. Leveraging platforms like Clubhouse, Twitter Spaces, and Spotify can enhance your brand's reputation.
Increasing Website Traffic
Your website plays a pivotal role in your social media strategy. Monitoring metrics like traffic volume, network referrals, and email sign-ups are vital for this goal.
Improving Community Engagement
Engagement encompasses visible interactions with your brand, such as likes, comments, and shares. Calculating engagement rates helps assess the quality and quantity of audience interactions.
Boosting Conversions or Sales
Conversions occur when users take action on your social media posts or website. Metrics like conversion rate, click-through rate (CTR), and bounce rate are critical for tracking conversion goals.
Generating Leads
Lead-generating campaigns aim to collect information for follow-up. This includes names, email addresses, and other relevant details. Facebook often proves to be an effective platform for lead generation.
Delivering Customer Service
Enhancing customer service through social media involves establishing new support channels, reducing wait times, and improving customer satisfaction. Metrics for success include customer testimonials, satisfaction surveys, and internal service request handling.
Gaining Market Insights with Social Listening
Social listening involves tracking relevant social media activity and analyzing it for insights. Metrics to monitor include brand mentions, relevant hashtags, competitor mentions, industry trends, and social sentiment.
Attracting Candidates for Open Positions
Utilizing social media for recruitment requires tracking leads per platform and assessing the source of hire. LinkedIn is often a prime platform for this goal.
Additional Tips for Effective Social Media Marketing
Choose the Right Platforms:

Select platforms where your target audience is most active.

Create High-Quality Content

: Ensure content is informative, engaging, and visually appealing.

Maintain Regular Posting:

Consistency is key; aim for a steady posting schedule.

Use Relevant Hashtags:

Optimize visibility with pertinent hashtags.

Interact with Your Audience:

Foster a two-way conversation by responding to comments and questions.

Track Your Results:

Leverage social media analytics tools to measure progress.
In conclusion, social media marketing is a powerful tool for reaching and engaging with your audience, nurturing customer relationships, and promoting your offerings. It's crucial to have a well-defined strategy and to maintain consistency in your efforts.
For comprehensive guidance on achieving your social media marketing goals, explore Trycyfer Online Digital Marketing Services. At the very least, every endeavor is a learning opportunity!