What are the Five Stages of SEO?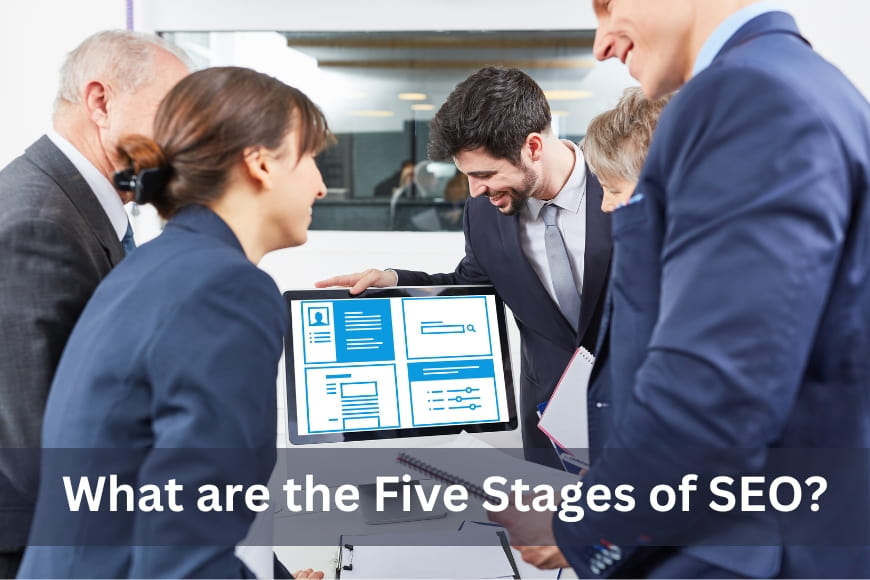 5 Stages of SEO: Your Step-by-Step Guide
Navigating the realm of search engine marketing can be overwhelming. With content optimization, backlinks, technical and on-page SEO, it's easy to feel lost. Fear not, as we're here to simplify the essentials of SEO, enabling you to elevate your website's ranking on search engines effectively.
Understanding an SEO Strategy:
At its core, an SEO strategy is your blueprint for enhancing your website's search engine ranking. It involves selecting and executing SEO best practices tailored to your capabilities. A robust SEO strategy encompasses four key components:
SEO Strategy

– Begin by setting clear goals, identifying your target audience, and conducting comprehensive keyword research. Evaluate your website and analyze competitors to unearth areas for improvement.

Technical SEO

– Ensuring mobile-friendliness, faster load times, improved usability, and eliminating duplication.

On-Page SEO –

Crafting content with strategic keywords, informative metadata, and meaningful image alt text.

Off-Page SEO –

Cultivating external links and advertisements, such as press releases, guest blogs, and paid search engine ads.

Local SEO –

Optimizing to appear in local searches, including Google My Business optimization.
To implement an effective strategy, you'll need a specific plan for each component, accompanied by a content production calendar to ensure timely execution.
In-Depth Exploration of Each Stage:
1. SEO Strategy:
Define Clear Goals:

What are your SEO objectives? Increase website traffic, generate leads, or boost sales?

Identify Your Audience:

Understand and address the needs and interests of your target audience.

Keyword Research:

Identify the right keywords to ensure visibility in search results.

Website Analysis:

Conduct an SEO audit to pinpoint technical issues and areas for improvement.

Competitor Analysis

: Learn from top competitors to refine your own strategy.
2. Technical SEO:
Optimize Website Structure:

Ensure your site is well-structured for easy search engine navigation. To achieve seamless search engine navigation, it's advisable to consider the expertise of a reputable

business web development agency

. They can ensure your site is not only well-structured but also optimized for maximum visibility and user experience.

Resolve Broken Links:

Promptly address broken links to prevent adverse effects on your ranking.

Create and Submit a Sitemap

: Aid search engines in efficiently crawling and indexing your site.

Implement Schema Markup

: Enhance search engine understanding of your content for better visibility.
3. On-Page SEO:
Fine-tune Title Tags and Meta Descriptions:

Ensure they are clear, concise, and informative.

Integrate Relevant Keywords:

Use keywords judiciously throughout your content.

Deliver High-Quality Content:

Offer well-crafted, relevant content for your target audience.

Optimize for Mobile:

Guarantee a seamless experience across all devices.

Enhance Page Loading Speed:

Improve user experience and search engine ranking with faster loading times.
4. Off-Page SEO:
Quality Backlinks:

Garner quality backlinks to establish credibility and improve rankings.

Create Link-Worthy Content:

Craft valuable content that encourages natural backlinking.

Strategic Outreach:

Approach relevant websites for backlinking opportunities.
5. Local SEO:
Optimize Google My Business Listing

: Ensure accuracy and completeness, incorporating relevant keywords in your business description.

Solicit Positive Reviews

: Encourage satisfied customers to leave reviews on your Google My Business listing and other review platforms.

Cultivate Local Backlinks

: Strengthen your local SEO by obtaining backlinks from regional websites.

Create Localized Content:

Generate content focusing on local events, news, and attractions to cater to your local community.
Elevate Your Website with SEO:
The process of building or optimizing your website with SEO in mind requires attention to detail. Consider:
– Optimizing for each crucial component of your strategy.
– Creating a well-structured site with designated landing pages and content hubs.
– Ensuring proper indexing by search engines.
Content Marketing for SEO Success:
Implement a Pillar-Based Marketing (PBM) approach to boost content visibility. Strategically interlink content pieces to establish authority on a chosen topic. Plan and publish content with high-value keywords to cover a broad spectrum of search terms.
Promoting Your Masterpiece:
Maximize your website's reach through various channels:
– Share content on social media platforms.
– Feature useful tools in your email newsletter.
– Leverage paid search ads to highlight valuable pages.
– Consider guest appearances on industry podcasts or webinars.
For tangible results, merge the diverse facets of SEO mentioned in this guide. Explore Trycyfer comprehensive Digital Marketing services for further expertise or reach out to support@trycyfer.com. Elevate your online visibility today!